History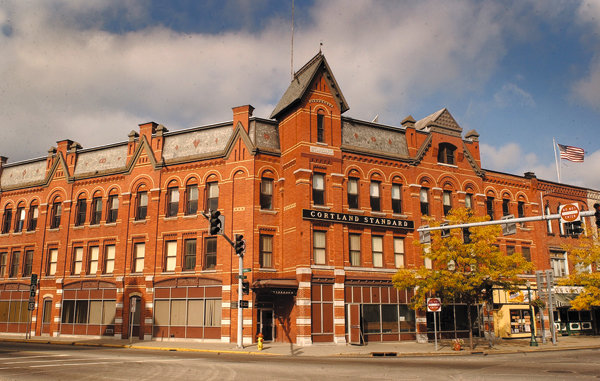 Cortland Standard Printing Co.
110 Main Street
Cortland, NY, 13045
(607) 756-5665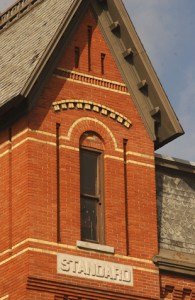 The Cortland Standard is the oldest and largest news media organization in Cortland County. Founded in 1867, it is New York's second-oldest family-owned news organization, and the eighth-oldest in the United States.
Today, it's overseen by the fifth generation of the same family: Publisher and Editor Evan C. Geibel.
In 1867, Francis G. Kinney first published the Cortland County Standard as a weekly newspaper, before selling it in 1872 to Wesley Hooker, who bought it in conjunction with the Cortland Journal to create The Standard and Journal, then sold it in 1876 to William H. Clark, who renamed it the Cortland Standard in 1879 and was its editor and publisher for 52 years.
Its publishers since:
William H. Clark: 1876-1928
Edward H. Clark: 1928-1973
Paul L. Geibel: 1973 -1986
Kevin R. Howe: 1986-2013
Evan C. Geibel: 2013-today
The Cortland Standard moved to its office at Main and Tompkins streets on March 1, 1883, where it shared space with the Post Office and the YMCA. Its first daily issue was published March 8, 1892, printed on an eight-page flatbed press capable of producing 3,500 copies an hour.
Today, its five-unit Goss Urbanite press can produce 30,000 copies an hour in either broadsheet or tabloid format, including full color on several pages.
But the news organization is looking to the future, and besides its print edition, features a website, e-edition, video, social media and other digital products.
Our Mission
We will seek the truth.
We will pursue news of value to our readers and our community with neither fear nor favor.
We will give our readers the information they need to make decisions to improve their lives.
We will hold our sources and governments accountable to the community for their actions that bear on the community interest.
We will set the agenda for public discourse. We will seek to challenge the assumptions of our sources, our readers – and ourselves.
We will speak truth to power.
We will give voice to all segments of our community.
We will exercise and defend First Amendment rights, particularly the freedoms of press and free speech.
We will be accurate. Our news reports will pursue objectivity; our opinion pieces will be based on fact and reason.
We will remain independent, and hold ourselves separate from inappropriate influences.